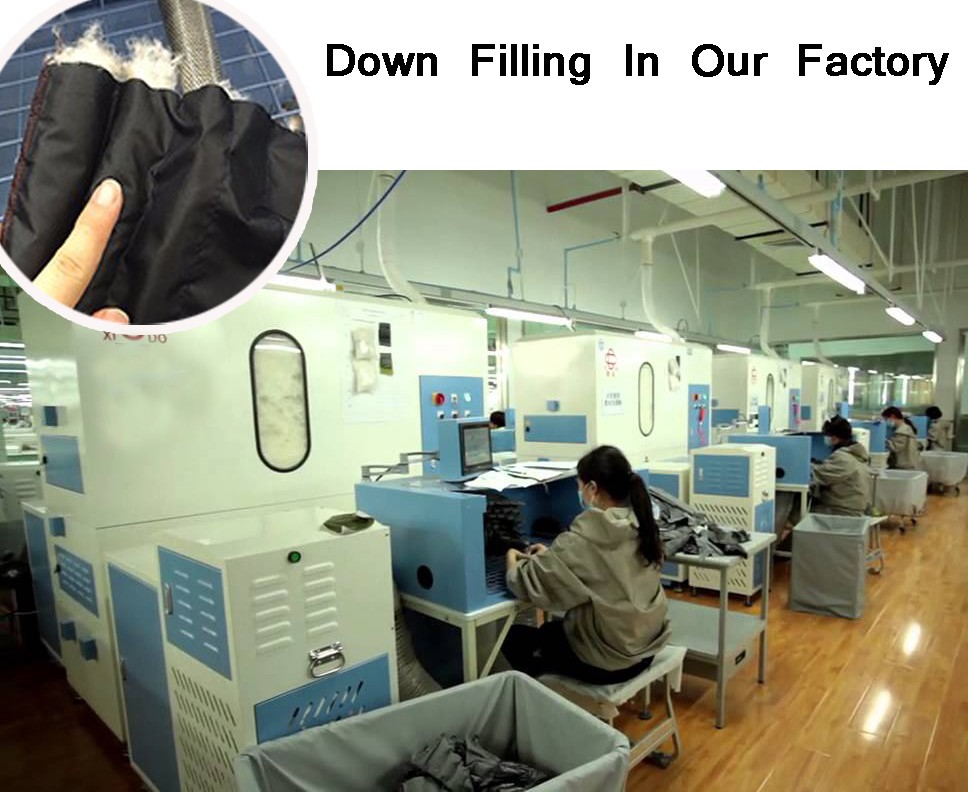 Automatic Down Jacket Filling Machine Jacket Filling Machine Down Filling Machine is suitable for producing down filled down jacket, women down/feather coats in all style. It is widely used to produce jackets for men, winter jackets, down/feather coats, spring jackets, lightweight down/feather jacket, goose down/feather jackets, down/feather filled parka etc.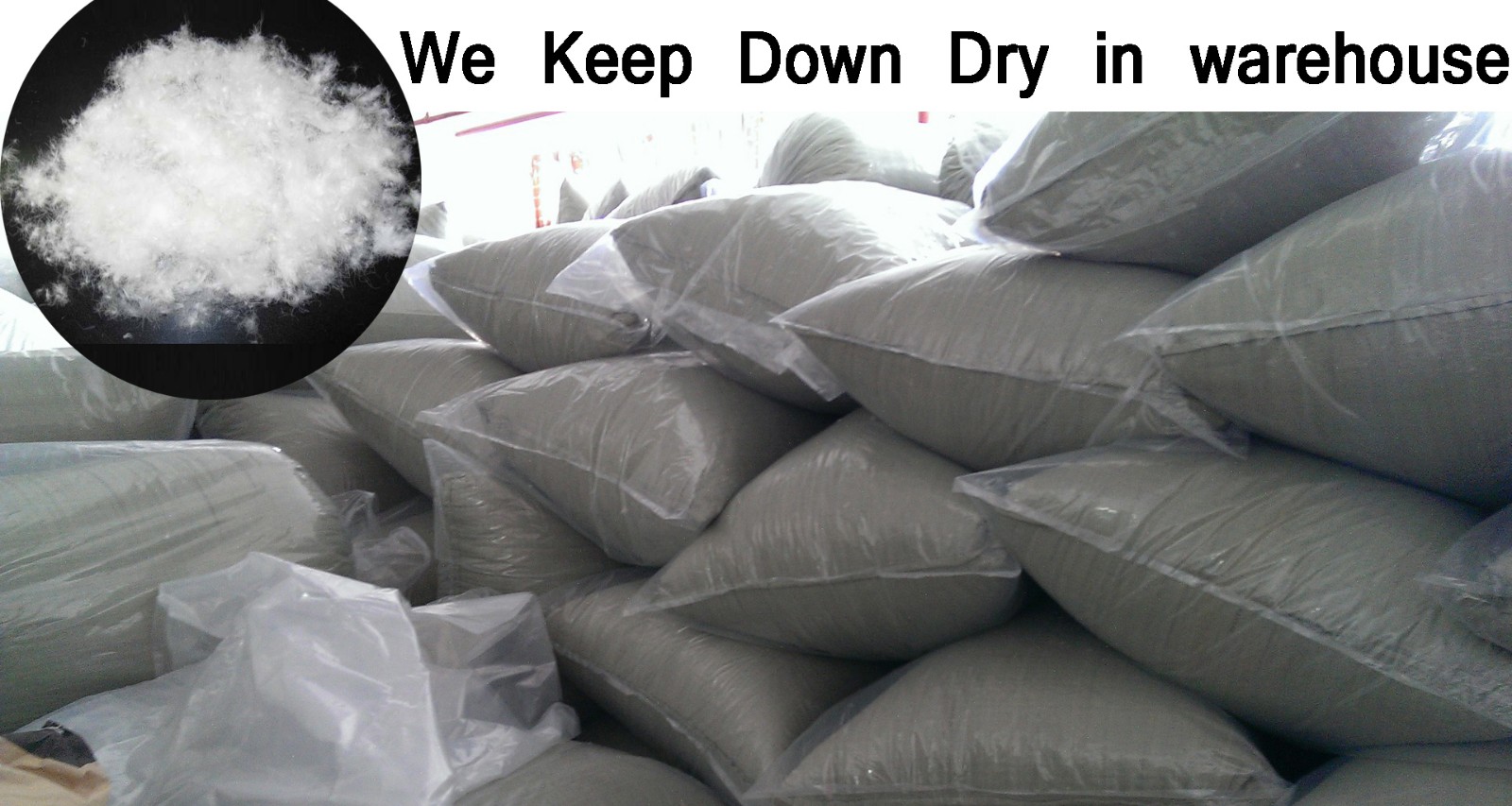 We has developed a process which it says ensures that no birds were live-plucked or force fed,which requires third-party auditing of the entire supply chain,our down is a high-quality by-product from food production. We work exclusively with one down supplier, who in its turn works with selected farms and one slaughterhouse. All involved parties work according to the Code of Conduct, which includes regulations on the wellbeing of the geese when they are raised, transported, slaughtered, etc.
down insulation used. The number is actually a volume — the amount of cubic inches one ounce of down occupies. For example, one ounce of 800 fill-power down will occupy 800 cubic inches when compressed by a standardized weight.
Down quality is rated by a system that measures its fill power, which is the number of cubic inches displaced by an ounce of down. It is usually expressed with the word "fill" preceded by a number ranging from 300 to 900, increasing in increments of 50. The higher the fill-power, i.e. 800 fill, the greater the loft provided by the down, and therefore the less down it requires to provide warmth. Typically 550+ fill is sufficiently warm and light enough to be used in jackets intended for activities like backpacking and climbing.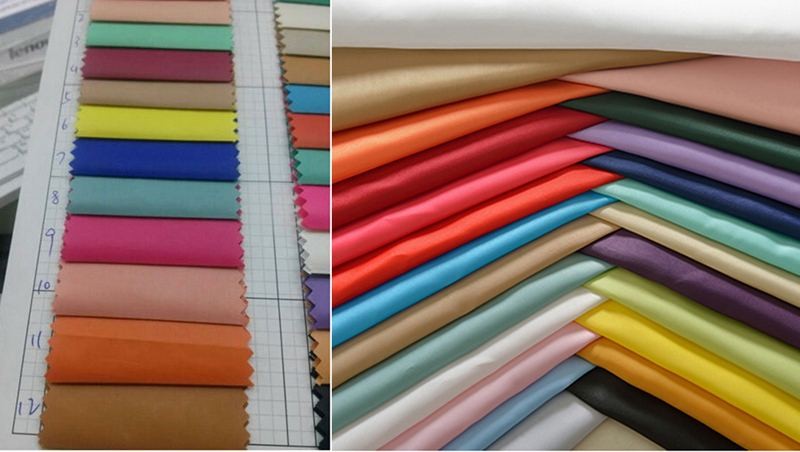 Our down jacket should have anti-velvet fabric, windproof and breathable performance, particularly the anti-down of crucial. Ability of anti-down performance is depending on the fabric of yarn density. For most down jacket on the market now are mostly dominated nylon taffeta and TC cloth. yarn density generally is above 300T. 380T is the best. Our down coat can has 380T.
Less than 300T is more difficult to ensure that fluff drill. In recognition fabric, looking on its thickness. Generally thinner. Then it should be hand flapping. If domesticated flying, the density will be less than 300T.
Once again holding the clothes of a part slightly afterburner rub. If no fine silk velvet drilled density should be above 300T. Nylon fabric has a thick layer of paint, and its treatment with bright, smooth and uniform as well.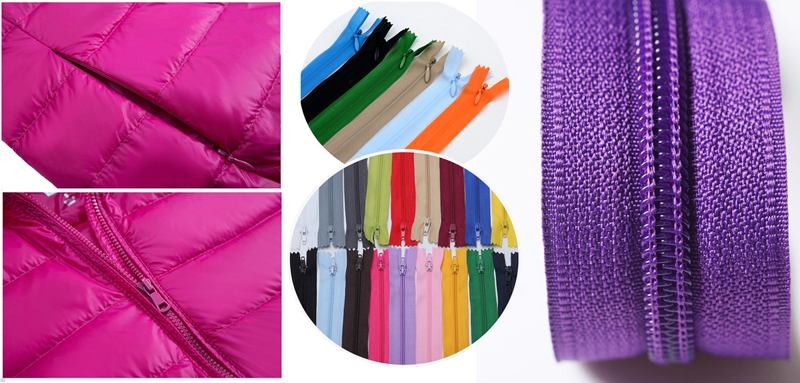 invisible / concealed nylon closed-end zippers are lightweight zippers. When the zipper is sewn into down jacket, the zipper teeth do not show.
These zippers do not separate at the bottom, and are available in wide array of colors. These #5 nylon zippers separate at the bottom, jacket-style. They are available in wide array of colors. These are one-way zippers (they have one slider).
Available colors: Beige, Black, Blue – Light, Blue – Medium, Brown – Medium, Brown – Dark, Grey – Medium, Natural, Navy, Pink – Light, Purple, Red, Turquoise, White, Wine

(noted:Additional Sublimation printed can be added for an extra charge. Available Locations: Front,Left sleeve,Right sleeveg.)
4 Easy And Quick Steps,Simply put, dye sublimation printing is the process of printing a transfer of a computer generated image with a specific type of ink, and then using a heat press to apply the image to a variety of substrates. All of these substrates must be either made of 100% polyester or coated with a polymer that will receive and hold the sublimation dye. There are coated products made of ceramic, aluminum, plastic, wood, and a variety of garments from t-shirts to athletic performance apparel.